THE CONSTRUCTION OF EUROPEAN UNION

BY SEK LES ALPES STUDENTS - 3º ESO

CONGRATULATIONS! YOU HAVE DONE A REALLY GOOD JOB

THE CONSTRUCTION OF EUROPEAN UNION
By Enma Cano Grant and Marina Pérez
3º ESO - Sek Les Alpes
2014- 2015
THE CONSTRUCTION OF EUROPEAN UNION
By Pelayo Camuñas y Juan Guerrero

3º ESO - Sek Les Alpes
2014- 2015
THE CONSTRUCTION OF EUROPEAN UNION
By Daniela Alcázar and Catalina Soto

3º ESO - Sek Les Alpes
2014- 2015
CRITICAL THINKING

ABOUT EUROPEAN UNION

The European Union was a great advance for the States which made it up. However there are some citizens of these countries who refute these advances and have a critical thinking at about European Union and its consequences. The following pictures express their disagreement.
Your task is analize this critical pictures.
Describe these pictures: characters who are depicted, situations, issues…

Analize: What are they talking about? Or, What do you think is author´s point of view?
("Key Words" could be useful to complete your task successfully)

SOME OF SEK STUDENTS´ BEST ANSWERS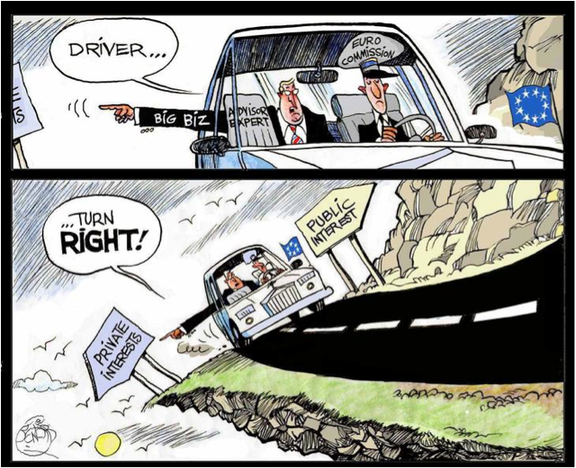 Key Words: European Commission – Welfare State       
A taxi driver called "Euro Commission" is taking a man called "Biz Big" (which means "a big business"); there is an empty seat where the Advisor Expert should be. The car has a flag of the EU. Big Biz wants to go to a cliff where it says: "Private interests" instead of following the road where says "Public interest". The car represents the EU and inside there is the European Commission that applies regulations and directives. Some countries, I think, tend to focus on their bizs (private interest) instead of being a welfare state based on public in public interest. The way to private interest is a cliff (in a metaphoric way) because the country will bankrupt in order to corruption and so on.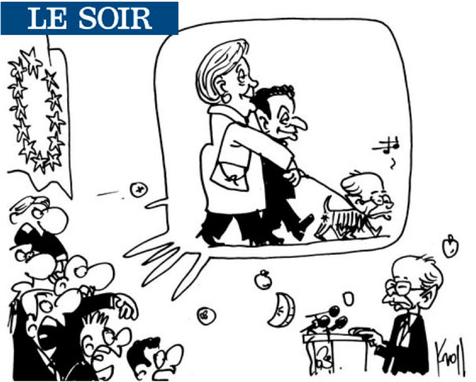 Key words: Angela Merkel – Herman Van Rompuy
Here we can see EU members complaining to Herman Van Rompuy, the first President of EU Council. The EU members are saying that he is the doggy of Angela Merkel, the President of Germany and Nicolas Sarkozy, the ex-president of France, the country where we live. The author says that as Germany and France were some of founding members of EU, Herman was helping them a lot and basically Angela Merkel and Nicolas Sarkozy controlled him.
                Key Word: Enlargement
Europe normally decides with vote to express different ideas. It always does the best for oneself. During the first few years it was easy to decide laws, but along the following 50 years, the number of member states has increased the European union's enlargement. That makes it more difficult to decide because there is a larger amount of opinions and ideas. E.C. (3º ESO)
In the beginning very few members, six, formed the ECSC (European Coal and Steel Community) and their aim was really clear: cooperation. They were all in agreement with each other, but in 2010 this aim was forgotten and each country asked for what they wanted and not for the union itself. J. G. (3º ESO)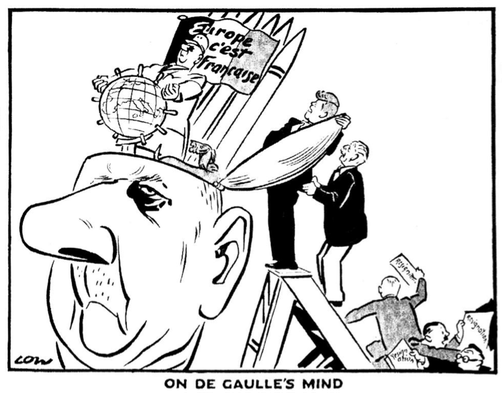 Key word: Charles De Gaulle
Here we can see that Kennedy (one of the US President) is opening Charles de Gaulle´s mind and inside we can see himself ruling the world and a French flag saying: "Europe is French". Kennedy looks scared and some citizens are holding "resignation" signs. The author is trying to say that De Gaulle wanted to rule Europe probably to be a new superpowerful country, so Kennedy was scared of what de Gaulle would be able to do. The US citizens asked for De Gaulle´s resignation because they were scared as well. It is important to point out that De Gaulle did not accept UK in the EEC because of this bonds with USA: he did not want EU inside of EU because it could interfere in his plan.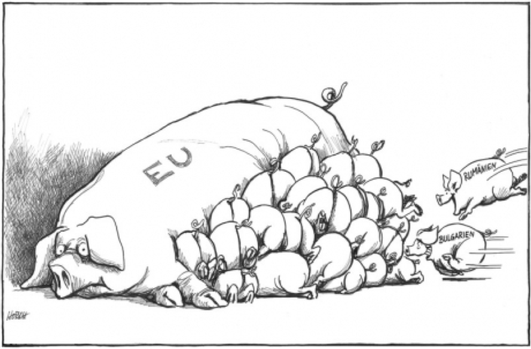 Key words: budget- regional policy
(Do not forget that some members of EU called us contemptuously P.I.G.S.: Portugal, Italy, Greece and SPAIN!)
Here we can see a big pig called EU with a lot of little pigs with the names of the different countries. The little pigs go running to get milk as soon as they can. The author says that all the countries in Europe take advantage of the regional policy of the EU to be helped in their economic situation. They do not care about the budget, they just want to be helped.